JAMES FELLA

NEWS: /////////////////////////////////////
SCHEDULE: /////////////////////
DISCOGRAPHY: ///////////////////////
AUDIO / VIDEO: //////////////////////
ABOUT: ////////////////////////////////////////
CONTACT: ///////////////////////


NEWS:
01/27/17: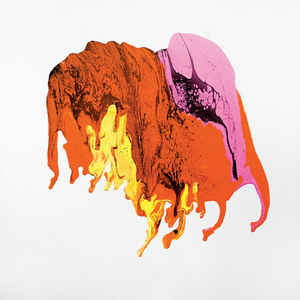 JAMES FELLA - "Inactive Parts" LP+digital / "Inactive Parts and Portion" CD / iTunes (Weird Machine)
About: "Inactive Parts" was a December 2014 installation at The Trunk Space in Phoenix, AZ consisting of paintings, screen printed xerox pieces, lathe cut 7" records and two sets of two single-sided acetate LPs which used for a sound installation that could also function has "instruments" for a live performance. Two performances occurred: 12/05/14 (the opening reception, duration: 4 hours), 12/20/14 (for the Gilgongo Records 10 year anniversary event with Sissy Spacek, Stephen Steinbrink, Cherie Cherie and Maniac Cop (Mallevs), duration: approx. 30 minutes). The majority of "Inactive Parts" consists of quiet, acoustic sound being played back at significantly amplified volumes (with some portions of tape collage using material from various tape recordings circa 2005-2008).

"Inactive Parts" as a title is a reference to the standard time in which metal plates for pressing records are discarded if the customer does not repress or make arrangements for the plates to be shipped. The irony in this standard is that at the time of the finalized edit of this release, the typical turn time for an LP was more than 6 months from start to finish. As a person who's primary role in "music" is releasing records, this conflict in fine print and reality was mildly amusing, though it created an environment which had become problematic to the point that many peers who run labels were calling it quits. "Inactive Parts" originally appeared as "New Material", an hour long piece which aired on Ricardo Wang's "What's This Called?" on KPSU in Portland, OR in August 2014. The content of that program, the acetate version and this final edition are all slightly different from one another. Digital version of LP edition on Bandcamp.


01/01/17:
"Strong Output Near Saturation: James Fella: Solo Recordings", a very in-depth review and collection of thoughs from John Collins McCormick regarding 4 long-format solo releases: Expanding Gap, See Tall Palm, Weak Left Input and Slots (etc).


05/31/16: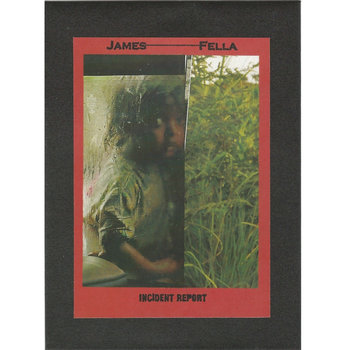 James Fella - "Incident Report" C-20 (Torn Light)
About: Having skewed between imagination and jest, Incident Report is a tepid piece of musique concrete and avant inception.Edition of 30. C20 housed in black plastic button & string enclosure envelopes. Order from Torn Light. Available digitally on Bandcamp.


02/01/16:





Three recent full length CDs from James Fella on various Gilgongo sub-labels. All three are also available digitally on Bandcamp.

JAMES FELLA - "Expanding Gap" CD (Weird Machine)
About: Edited in late 2015, "Expanding Gap" is an extremely dense sound collage utilizing roughly 4 hours of material originally hosted on the blog "Giveaway Pile" (2010-2012), which featured daily writing or recordings by artist James Fella. Some of this material was released as a boxset which included a lathe-cut LP and two 90 minute cassette tapes (also entitled "Giveaway Pile"). Here, this work has been reduced and layered to a degree that in theory should be overwhelming, but it instead flows and breathes somewhat freely. Stream the entire release: YOUTUBE.

JAMES FELLA - "See Tall Palm" CD (Deliberate Indifference)
About: Recorded in October 2015, "See Tall Palm" was intended to be material which would be ideal for sleeping to when listened to at a lower volume, while also being a more unnerving and abrasive listen when projected at a higher volume. Listened to quietly, "See Tall Palm" is a slow moving, swirling low-end drone that seems somewhat sedate. In actuality, and more apparent when shared in a forceful manner, "See Tall Palm" is a constantly changing, pulsing, textured sort of release whose shifting and overlapping details cascade from side to side as time goes on. Stream the entire release: YOUTUBE.

JAMES FELLA - "Trellis" CD (Alien Summer)
About: Also recorded in October 2015, "Trellis" is unintentionally the antithesis of "See Tall Palm". Instead of overblown electronics and an arguably impenetrable flow, "Trellis" is reserved and often sparse, comprised entirely of acoustic sound: non-amplified electric guitar, cymbals and the physical sound of contact with recording devices to their surfaces when not restrained and limited to close proximity. Devoid of any narrative, the listener is free to regard (or disregard) whatever the response may be to changes in the environment. While in "See Tall Palm" this is gradual, in "Trellis" it is more eventual: the guitar offers momentary fluctuation from a softer almost Shruti box style Indian drone to a very much self-limited and self-destructive attempt at becoming something more fierce before returning to its initial state (again and again). It can be difficult to try and sort out what any recorded work is trying to tell you, and truth be told it may be not be saying at all. Perhaps the artist just needed to get something out of their system, and it was just entirely too late to be audible enough to make contact with the outside world.


01/01/16:



SOFT SHOULDER - "Collection Volume One" CD (Gilgongo Records)
Call it "no wave", "post-punk", whatever you prefer... Soft Shoulder have recently hit the 10 year mark and (as more eloquently put in a recent review on THE QUIETUS), the band will not be going anywhere anytime soon. A consistently inconsistent group that will be present for a moment and then gone a day or two later, whatever the reason may be, yet with somewhat regular output (especially over these past few years). "Collection Volume One" compiles the recent "No Draw" LP with material from seven 7" records and a couple of cassettes, 32 songs on 18 tracks in just about 80 minutes. Also available digitally on iTunes / Amazon / etc. Stream through the entire release, here: YOUTUBE.


10/18/15: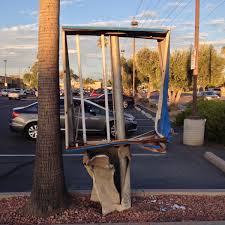 SOFT SHOULDER - "No Draw" LP (Gilgongo Records).
About: 2016 marks 10 years of Arizona's Soft Shoulder. In that time they have released a plethora of 7"s and sporadic cassettes, CDrs and lathe cut recordings on labels such as Isolated Now Waves, Not Not Fun and Gilgongo. With a line-up that frequently changes, and many recordings which are just James Fella on all instruments, the "band" changes trajectory in a very spastic nature, but usually remains on the no-wave / post-punk axis. The A-side of "No Draw" is Soft Shoulder at its most accessible, while the B-side, "Repeat #3" is very minimal and monotonous (a largely improvised stomp with Ricky and Sean of Oakland's No Babies). Trace ingredients (less than 1%): Mars, Frumpies, U.S. Maple, A Frames, etc.
Hear / download / buy: https://softshoulder.bandcamp.com/album/soft-shouder-no-draw-lp-gilgongo-records-2015


06/01/15: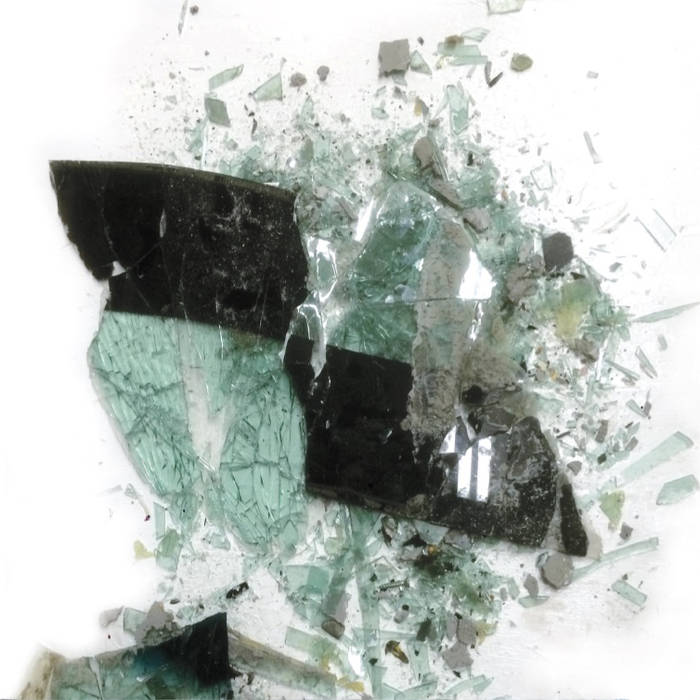 New 7", a collaboration with Filthy Grin, available now on Gilgongo Records. About: The empty room, like the rest of the house, had a concrete floor. Littered with miscellaneous pieces of wood, random bicycle parts and unidentified metal objects, the room itself was essentially the instrument of choice. Cables ran under the door and through the air conditioning vents. Of all of the times that I had recorded various things with Gerald Biggs at YOBS, this was by far the most unorganized, but ultimately the most organic and cathartic.
Looking back on this now, I see direct parallels to the arrangement of what he captured that evening to the visual work he has been assembling since moving away from Arizona. He is an architect of circumstance and surrounding who is, intentionally or otherwise, reacting and communicating. It was, perhaps, a very strange time for both of us, manifesting in what would look like some kind of insane ritual to the outside world, and I'm extremely grateful that this small little record exists as a document of it. – James Fella 5/1/15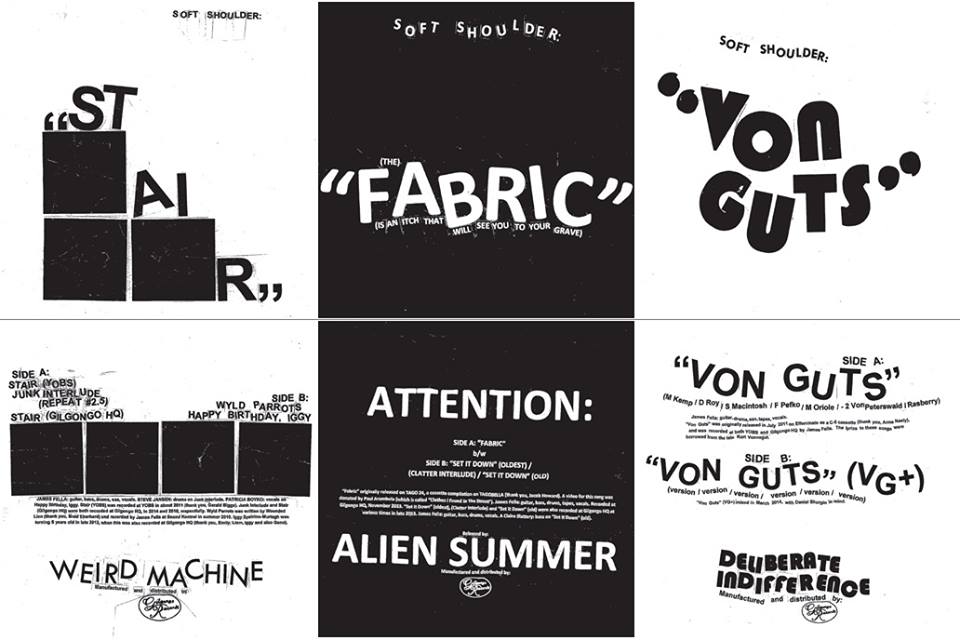 Also available now, three new 7"s from Soft Shoulder. Hear all three: https://softshoulder.bandcamp.com:
"Stair" (Weird Machine). "This is a mess of a record... each song tumbles into the next, tossing around mid-paced art-punk / no wave / post-punk punctuated by basic cavernous drumming and skronky hardly tuned guitars. They even through in a saxophone and make that shit work. There are traces of Dog Faced Hermans, Caroliner and Sun City Girls, but they keep it short and urgent throughout. Great Record" - Maximum Rocknroll.

"Fabric" (Alien Summer). Originally released on a cassette compilation from Phoenix label Tagobella, Yellow Green Red says Fabric is "chugging along like Black Time or Tyvek trying out for a Troubleman Unlimited contract", with the flip-side sounding like "a paper-thin A Frames". Add a dose of early Chromatics or Monorchid for good measure, with hints of tape collage and free jazz simmering in the mix. Active to various degrees and in different capacities since 2006, this is one of three new Soft Shoulder 7"s in 2015, with an LP on Gilgongo to follow.

"Von Guts" (Deliberate Indifference). The A-side of "Von Guts" was originally released in July 2011 as a C-5 cassette on Effeminate by Anna Nasty (Olivia Neutron-John, Chain & the Gang). Raw and junky no-wave punk with lyrics borrowed from the late Kurt Vonnegut, with the flip-side featuring radical remixes of the entire release. Damaged music on both sides. Tiny Mix-Tapes: "When SS mash that "Von Guts"-proper riff into the ground like fish brains it's like a pendant going back and forth in front of your eyes, hypnotizing you, leaving you ready to perform whatever task Fella asks of you. Don't drink that Kool-Aid, friend."

04/18/15: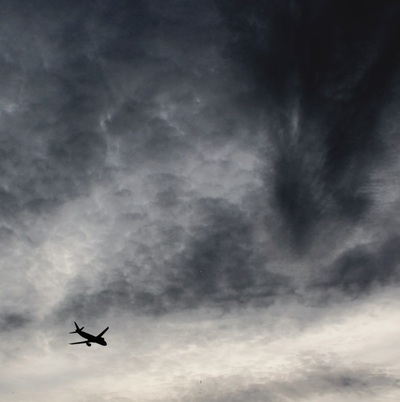 New LP from Detached Objects, available now from Gilgongo Records. About: Debut recordings from this guitar heavy Arizona group. Featuring members of RUMSPRINGER, AVON LADIES, SOFT SHOULDER and GAY KISS, Detached Objects play a loud style of punk that is both melodic and scathing, simple and complex, with nods to bands such as Wipers and Drive Like Jehu.

04/01/15:
2 newsprint zines available later this week (locally at the Phoenix Zine Fair 4/3/15 @ Trunkspace // online - send an e-mail). "Printed Matter Issue #1 // April 2015" compiles fliers from the past year (and includes a CDr w/ solo audio material). "Selector Gill Gone Go" features scans of some of my favorite reggae singles and includes a CDr w/ almost 5 hours of audio rips from "the Selector"'s collection of 60's and 70's reggae 7"s, with most emphasis being put on dubs and versions.

01/04/15: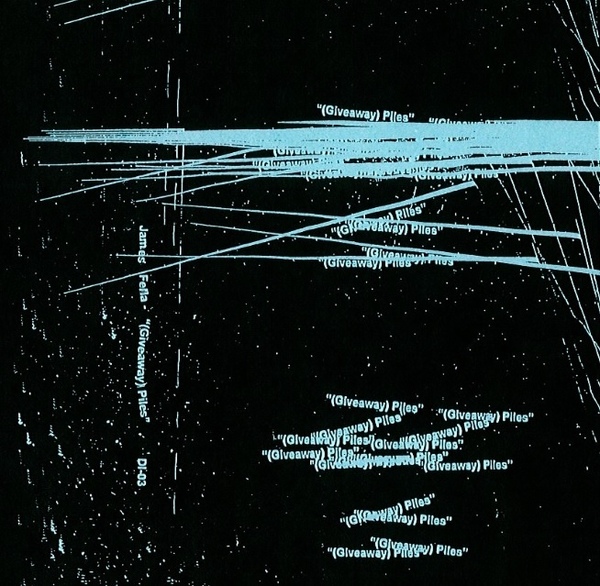 Playing a few shows in Texas from 1/15 - 1/18. Solo set in Austin and then group performances with Randall Cunningham Dance Company in Austin, Denton and Houston. See: Schedule. I'll have a new tape with me, "Giveaway Piles", and extremely dense sound collage using material from the "Giveaway Pile" box set from last year.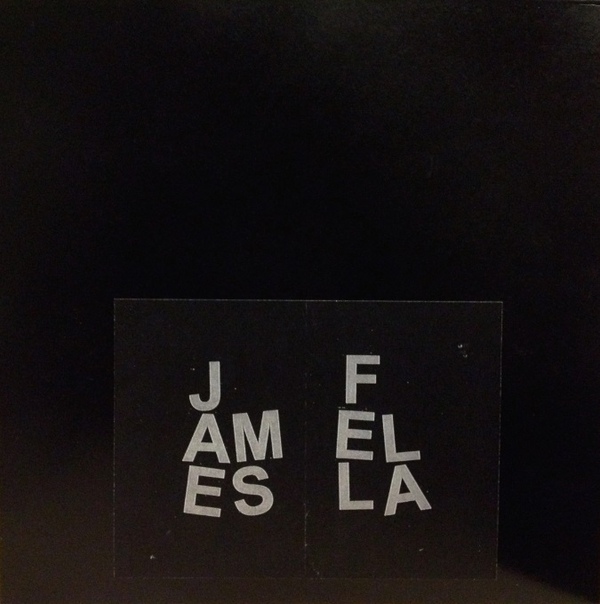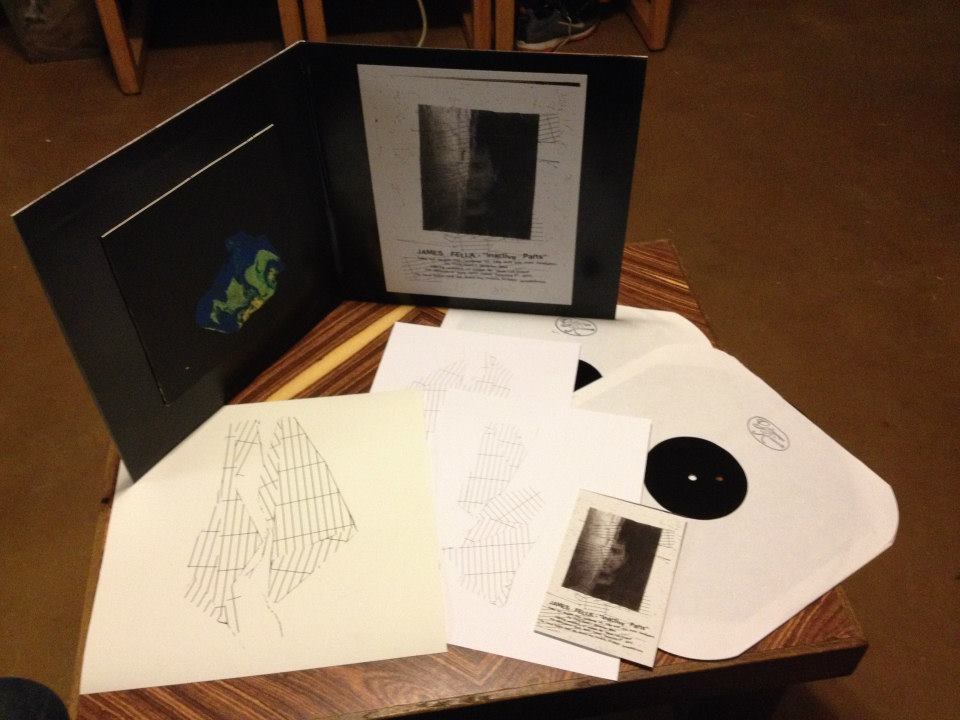 Also available now, "Inactive Parts" 2xLP acetate. An edition of 2, these were the 4 single sided records used as part of a sound / art installation in December at The Trunk Space (Phoenix, AZ). Packaged in a gatefold jacket with a piece of art from the show and canvas print. If interested, please get in touch. An alternative mix will be released as a proper LP in late 2015.

12/01/14: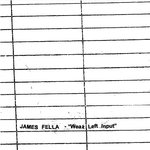 LP reissue of "Weak Left Input" available now on Gilgongo Records. About: Meandering / overlapping electronics, guitar and tape noise. Over an hour of material ranging from regurgitated drone to shimmering ambiance recorded directly to tape. Recorded and released on cassette in 2009, and as a CD in early 2014. RIYL: Total, early Growing or Emeralds, Dead C, etc. Edition of 200, heavy black vinyl and screen-printed covers.

11/24/14:
For the month of December, I have installation at The Trunkspace called "Inactive Parts" featuring paintings, lathe-cuts, canvas prints of photo-copy work and a sound installation (on 12/5 from 6-9pm for the Phoenix First Friday art walk and from about 7:15-8pm on 12/20/14, opening up the Gilgongo 10 year anniversary show with Sissy Spacek, Stephen Steinbrink, Cherie Cherie and Mallevs). Information on the opening, here: https://www.facebook.com/events/1545186035694661/

08/12/14:
I'll be at KPSU (Portland) on 8/30/14, broadcasting an hour of new material on Ricardo Wang's "What's This Called?" and then playing various records on Miss Rikki's "Closet Radio".

08/02/14:
Upcoming releases: "Weak Left Input" (reissue, this time as an LP), split C60 with Compartment on Syncro System, a collaboration 7" with Filthy Grin, "Avocado Goth", a collaboration with Christian Michael Filardo - 7" lathe on Alien Summer, a 10" lathe on Weird Machine. Also: three Soft Shoulder 7"s which compile various recordings from the past 4 years, followed by an LP on Gilgongo.

07/01/14:
Very wordy input from myself about the label, making music and Arizona on the site, YAB YUM.

02/17/14: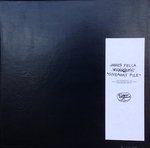 "Giveaway Pile", a onesided lathe cut LP packaged with 2 C90 cassettes, zine and poster - available now from Gilgongo Records. Over 3 hours of material from a now defunt blog which consisted of daily writing or recording entries. Edition of 24.

02/01/14:
Soft Shoulder and a duo with John Q ("Cult of the Basement") on a new cassette compilation from Tagobella.

A video for the Soft Shoulder track (featuring our previous drummer, Paul Arambula, who is now living in Berlin):



01/01/14: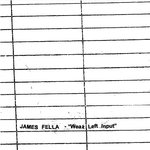 CD reissue of "Weak Left Input" C-62 cassette, available now on Gilgongo Records.

06/01/13:
Cassette reissue of Repeat #2 7" lathe (with "dub" mix on the b-side), available now on Holy Page.

04/22/13: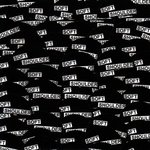 Extremely limited Soft Shoulder 7" lathe out now on Gilgongo Records.

01/22/13:
Playing a solo show this Saturday 01/26/13 in Portland, OR at Little Axe Records. Details: here.

01/03/13:

New tape out now: James Fella - "Inexplicible Confetti" cassette (Holy Page).
Please order here: http://reputation.storenvy.com/products/892068-james-fella-inexplicable-confetti

12/07/12:
Band new Soft Shoulder recording: 22 strange edits of the 6 song "Von Guts" cassette. Physical format in early 2013. Listen here: http://softshoulder.bandcamp.com/album/von-guts-vg-mix-recycled-cassette

12/01/12:
Soft Shoulder will be playing the Sonoran Pop Festival in Tempe, AZ. The event is a cooperative effort between Ascetic House, Sacred Bones and Chondritic Sound.

11/20/12:
Soft Shoulder now has a band camp: http://softshoulder.bandcamp.com